I can only remember a few times in my life when I wasn't looking (or claiming to be looking) for a church home. Perhaps its my restless nature, but I've found it very difficult to settle into a church. I visited many over the years. Some I would attend sporadically. Others I would attend regularly and even join a small group and begin to serve. Eventually, I just couldn't commit. I would then start my search anew for other options that better suited my needs.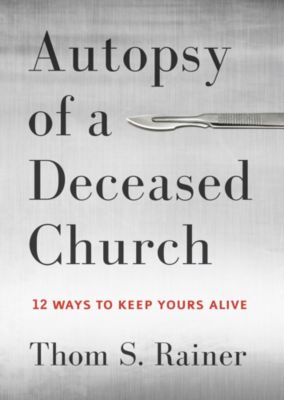 Clearly, I am the problem here. I think for a long time I just wasn't in tune enough with God's will for my life to find my place in a church. While I still haven't found a church home, during my search I do feel myself asking more why did God bring me to visit a particular church rather than how can it fit my needs and lifestyle. This to me signifies growth, which I have to claim whenever I can.
It turns out, a number of churches are struggling, too. I'm sure in part because of flaky folks like me. In his book,
Autopsy of a Deceased Church
, Thom Rainer explores some of the self-inflicted reasons churches struggle today. These include not responding to changes in the community, lack of purpose, and focusing on facilities instead of eternal treasures. I found this fascinating and wondered if my difficulty finding a church was at all related to the difficulty many churches are having finding their own way.
I particularly enjoyed Rainer's discussion of the Great Commission. He noted that in some dying churches members were unwilling to go into the community and reach out and minister to people. He closed the discussion with a prayer to be a "Great Commission Christian in a Great Commission Church." The book is designed for church leaders, but that prayer alone gave me a sense of clarity regarding the top priority in my search for a church home and role as church-goer.
I highly recommend this book to church leaders, aspiring church leaders, and anyone looking to better understand the qualities of thriving churches.